A virtual tour of our Pacific Northwest garden, gardening
information, garden journal, and a soapmaking page!

We garden in Zone 8.
This site best viewed in thousands of colors.

An Olympic View Garden: Home of the Miller Family

Welcome to our home page! I thought you might enjoy browsing the garden, since I've gained so much pleasure looking at the garden sites of others on the Web. We live on five acres in a little community called Olympic View situated near Hood Canal and within 20 miles of Seattle, as the crow flies. I have worked at a nursery and gardened for years so if I can be of help with your garden questions, I would be happy to oblige. If I can't be of help, I'll direct you elsewhere! You can email me with questions, comments or feedback at CLICK HERE. I invite you to share your views on the perennials you love and hate so that they can be included in the forum section (see below). If you are here for the soapmaking page... link over and bookmark now!
Kathy Miller

Like the musician, the painter, the poet and the rest, the true lover of flowers is born, not made. And he is born to happiness in this vale of tears, to a certain amount of the purest joy that earth can give her children, joy that is tranquil, innocent, uplifting, unfailing. Given a little patch of ground, with time to take care of it, with tools to work it and seeds to plant in it, he has all he needs, and Nature with her dews and suns and showers and sweet airs gives him her aid.
Celia Thaxter, An Island Garden.
Garden desktop images or wallpaper for you ...
I've expanded the desktop offerings and have moved them to their own pages:
| | | |
| --- | --- | --- |
| Crocus 'Blue Pearl' | Wild Sunflowers | Japanese Maple |
---
| | |
| --- | --- |
| Take a Walk Through the Garden ... a time capsule from 1998 to '99: | Garden Articles: |
| Since I've gotten so busy with the soapy stuff... I just don't seem to have much time for adding new photos to the garden pages. Sorry for those who are repeat visitors. :-/ For those of you who are coming in for the first time, I continue to rotate what I do have through the seasons... Maybe someday now that I have a digital camera, I'll do some new updated photos of the garden. I think I like some of these old ones better! The newest offerings I have put up on the garden page are the DESKTOP IMAGES... URLs for those are above. | |
| Garden Chronicles: | Forum: Send me your opinions! |
| | |
| Soapmaking: | Other: |
| Miller's Homemade Soap Information has been moved to its own domain. | |
NOTE: There are several pages that may go through periodic changes, so it would be best to reload or refresh those if you visit often. They are this page (the Home Page), the Seasonal Pages, the Gardening Links Page and Kathy's Garden Journal.
TEXT BROWSERS: I have added links to the important photographs on this site so that they can be downloaded for viewing with other software. This is what I had to do before we got an Internet provider and I appreciated sites that allowed for that option. If you are using a graphic interface and click on a photo, you will not see it displayed any larger than on the original page.

USA Today...
The "Miller's Homemade Soap Information" page received mention at the end of an article in USA Today that ran from July 9-12, 1999. Thanks to Sue Brandon for her kind review of the site. I have received permission to post the article since it was taken off the USA Today site and you can now view it by clicking here.
---
Homemade Soaps for Sale
Thanks to Carol Wallace, our garden has been added to the Suite 101 Virtual Garden Tour as of January 1999. You will see a few photos from the season of 1998 and if you have the stomach for it, can link over to a long biography of the place (I really should have edited before sending it off!)

(It will take a bit to load...it doesn't display until all the elements have loaded.

..It isn't really frozen up! :-)

My friend, Catriona, has finally put her garden on the web! If you'd like to see what she and her husband have done to their charming place this past season, please pay her a visit. After you finish the tour, go back to her home page to view one of her art pieces and read about their family. She has lots of great ideas for their new page so I'm sure we will soon see many additions!

The Whimsical Garden
Other Links:

Sign my Guestbook
View my Guestbook

Thanks for visiting ! If you enjoyed the site or have any feedback, just email me or sign the guestbook, if you haven't already. You will not be put on any sort of mailing list if you do.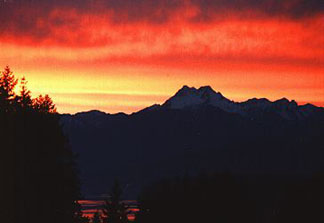 Photo taken from the deck by our son, Robert.

August 24, 1998!

Best Garden Site of the Week for the week of

February 28-March 6, 1999.

©Unless otherwise specified, all materials and photos on this website are the property of Kathy Miller and are not to be used for web or commercial purposes without permission. If you want to print out the site for personal reference or use photo images on greeting cards or personal craft items that are not for sale...that is perfectly okay with me!

This site was created with Claris Home Page, a sore shoulder and lots of chocolate chips!

The garden page is as in need of a facelift as my poor garden! Last updated (rotated featured season) June 8, 2004

Nearly all photos by Kathy Miller.
"Olympic Views" logo designed by our son, Robert Miller.
The URL for this home page is http://homepages.donobi.net/timer/index.html
If you have any questions or feedback, contact Kathy Miller at CLICK HERE